BUZZY PRODUCTS
Buzzy is a professional line of cleaning nd laundry products for your home! The offer includes washing powder, gel and fragrance boosters, moisturizing wipes and foams that will effectively clean any surface in your home, leaving it hygienically clean and fragrant for a long time. Thanks to our products, cleaning will never be the same again!
BUZZY WASHING POWDERS
A unique products for washing from English brand Buzzy. Washing powders Universal and Color, thanks to its innovative and strong formula enriched with Marseille soap makes washed clothes perfectly clean and pleasant to the touch. The products not only cleans perfectly, but also leaves a very delicate and pleasant fragrance.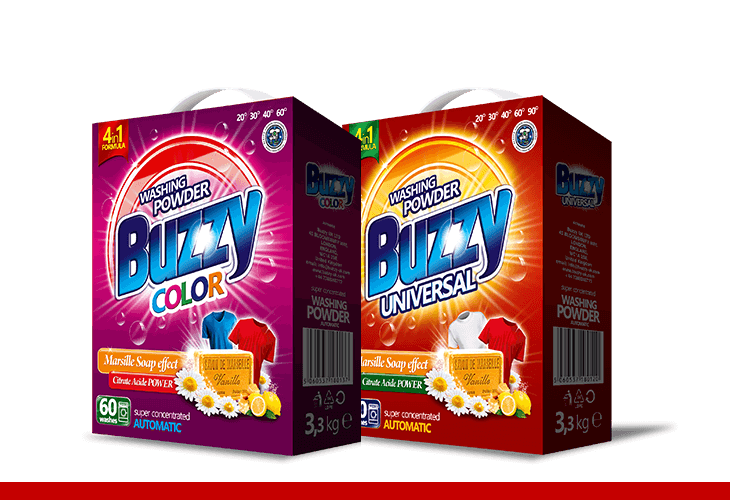 BUZZY WASHING GELS
Absolutely new! Exeptional washing products from British brand – Buzzy. Thanks to their innovative recipe, products perfectly clean and protect clothes. What makes Buzzy different from other products is the original and wonderful fragrance that you enjoy each time when you put on your clothes.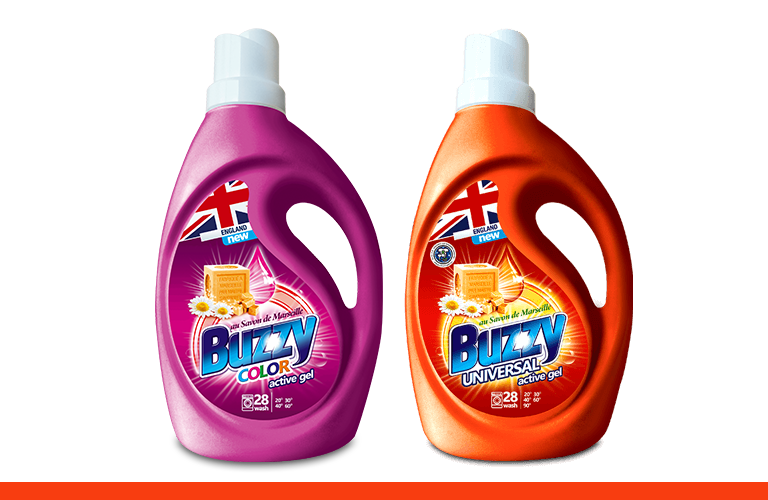 BUZZY DUO CAPS
Great, duo-capsules for washing all kinds of fabrics! Thanks to super concentrated formula, closed in those double capsules, our product removes difficult dirt and stains even in low temperatures. Product is based on 3 ensyme system, that improves the washing performance. This is perfect and handy solution which makes dosing problem dissapear! Just put one capsule inside the washing machine and that's it!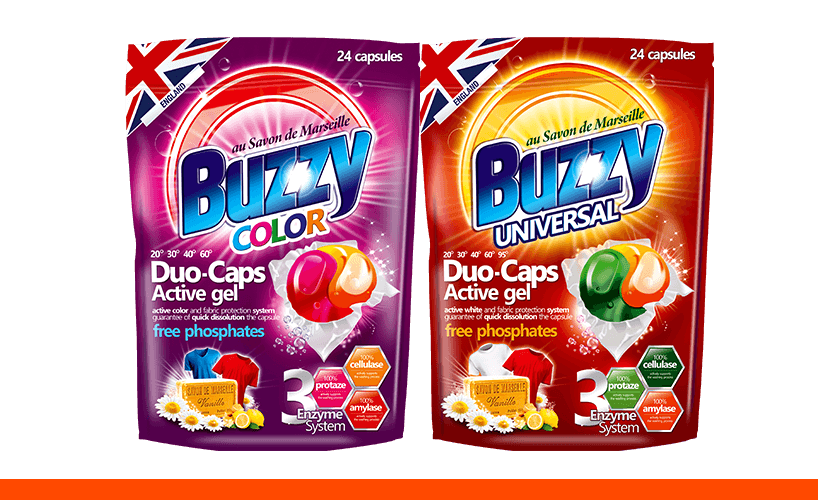 The products work very well on the surfaces they were designed for. Gently clean removing all dirt. They do not leave streaks or stains and care for the cleaned surface. The wipes have a very pleasant fragrances and are gentle to the skin of the hands.
BUZZY KITCHEN WET WIPES
Wet wipes for quick and easy cleaning table tops, sinks, hoods, and many other kitchen surfaces. Perfectly remove grease, dirt and dust. The innovative formula enriched with antibacterial liquid, leaves hygienic clean surfaces without streaks and stains.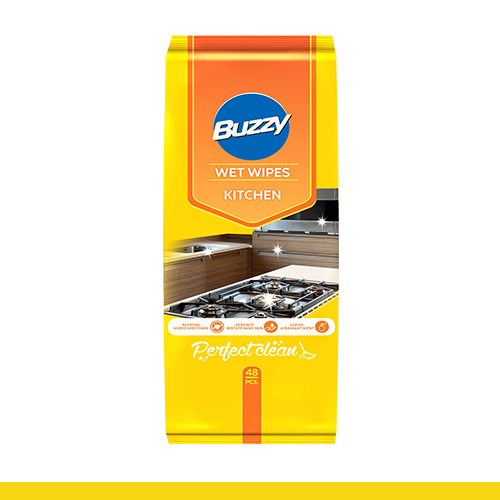 BUZZY GLASS WET WIPES
Wet wipes for glass designed for easy and quick cleaning them without leaving streaks and stains.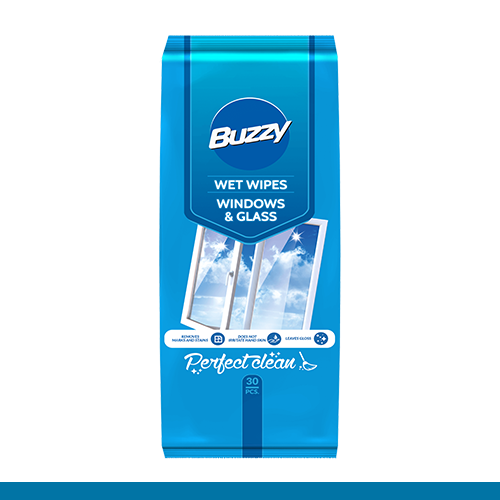 BUZZY UNIVERSAL WET WIPES
Wet wipes for quick and effective cleaning without scrubbing various surfaces. They perfectly cope with the removal of all stains from wood, steel, plastic, glass, ceramics, while leaving a crystalline gloss. Ideally suited to cleaning in the living room, kitchen or bathroom.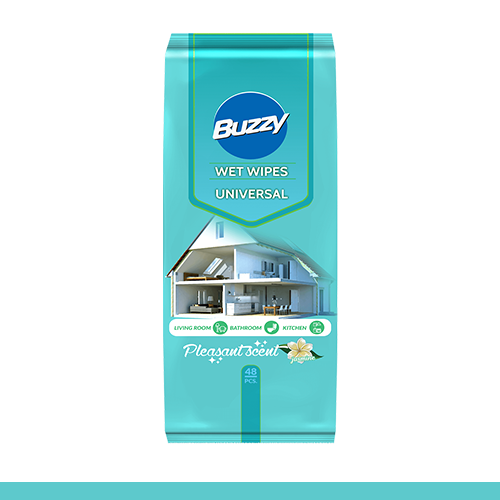 BUZZY BATHROOM WET WIPES
Wet wipes for quick and easy cleaning all sanitary surfaces and bathroom fittings. Perfectly removes soap scum, hard water sludge, dirt and dust. The innovative formula enriched with antibacterial liquid leaving surfaces hygienically clean without streaks and stains.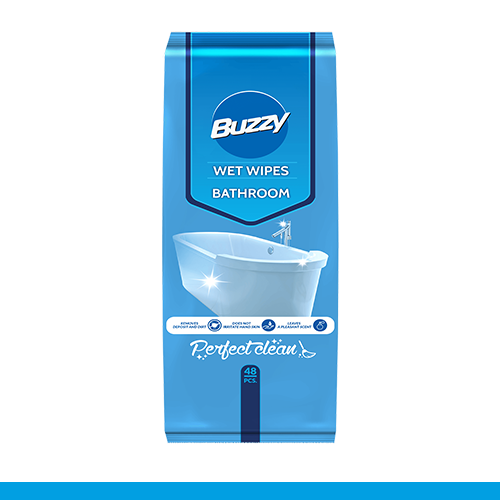 BUZZY FURNITURE WET WIPES
Wet wipes designed for cleaning and protecting wood and leather furniture. The innovative formula enriched with nutrient oil, leaves furniture shine, renew and refresh.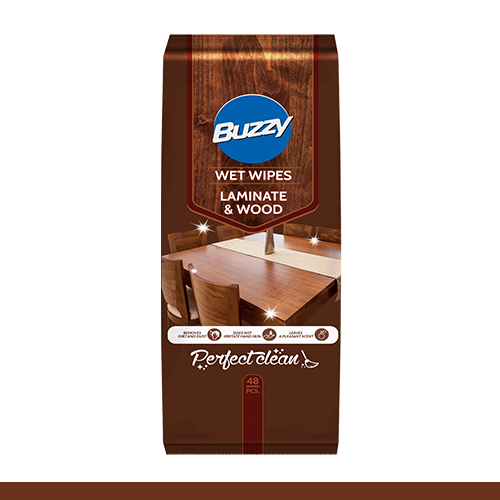 Compressed cleaning foams (435ml) for various surfaces. Foams perfectly remove all kinds of dirt – even the most difficult ones. Thanks to unique composition and compressed formula they expand thier volume right after dosage. It allows not only for effective but also efficient use. In addition, the foam does not flow down from the vertical surfaces, which facilitates cleaning. The products do not leave streaks and stains and they are characterized by very pleasant scents
CLASSIC FURNITURE
The product is suitable for cleaning wood and wood-like surfaces. It gently cleans surfaces, removes dust and has antistatic properties thanks to glycerine and cationic substance in the mixture. The emulsion from avocado oil creates a gentle shine on the surface. It leaves a fresh, pleasant smell.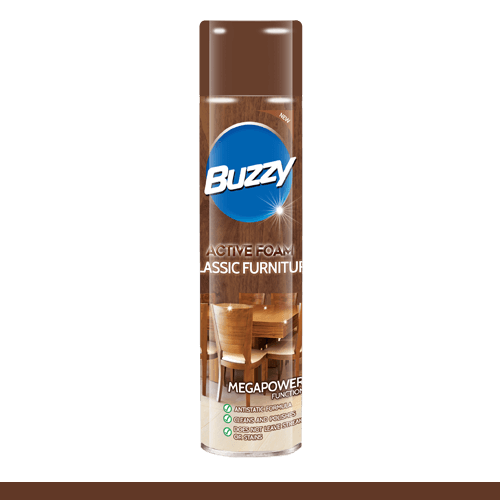 FIREPLACE, OVEN AND GRILL CLEANING FOAM
The product is a degreasing agent. It removes dried-on food and fat residue, as well as smoke and soot. Foam is comfortable to use, thick foam sticks to vertical surfaces.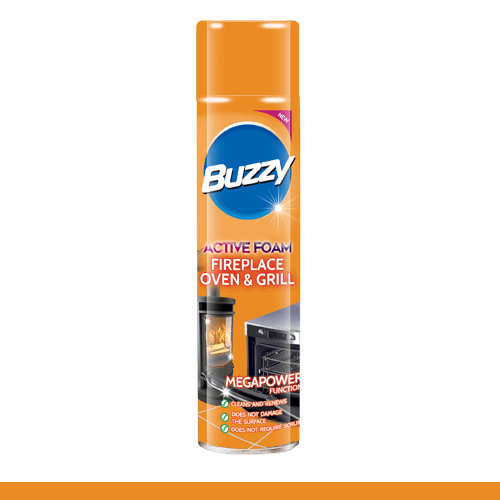 MULTISURFACE CLEANING FOAM
The product is suitable for cleaning many surfaces: wooden furniture, glass, plastic and metal. It gently cleans surfaces , removes dust and has antistatic properties thanks to glycerine and cationic substance in the mixture. It leaves a fresh, pleasant smell. Do not use on unprotected wooden surfaces or screens of electronic devices.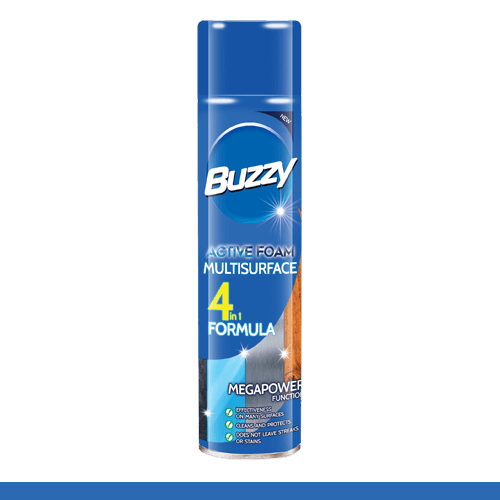 WINDOWS & GLASS CLEANING FOAM
The product is for cleaning windows and all glass surfaces. It easily removes any impurities, thanks to the content of the mixture of surfactants. The addition of alcohol facilitates fast evaporation without spots and streaks. It gives shine to the surface. The product creates a protective layer on the surfaces to prevent re-settling of dirt, and also prevents the formation of water vapour. The product is in a form of a very effective foam in an aerosol can. Safe for interior and outside use.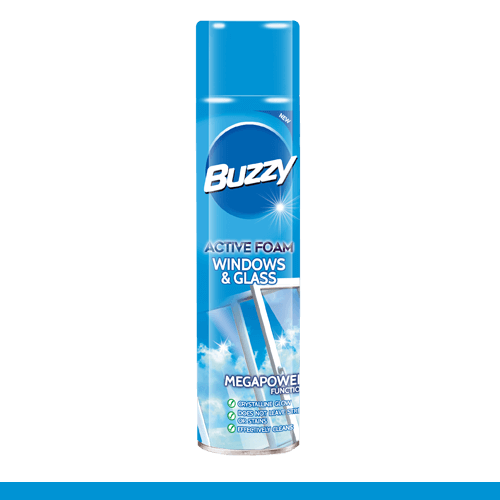 BATHROOM CLEANING FOAM
Foam for cleaning bathrooms and sanitary appliances. Recommended for: washbasins, shower cubicles, tiles, fittings. The product effectively removes daily dirt such as soap scum and scale formed by hard water. Restores its original look and brightness. Provides citrus, fresh fragrance. The applied special surfactant makes the cleaned surfaces more resistant to re-deposition of dirt and scale. The product has a dense foam, which does not run off a vertical, slippery surface.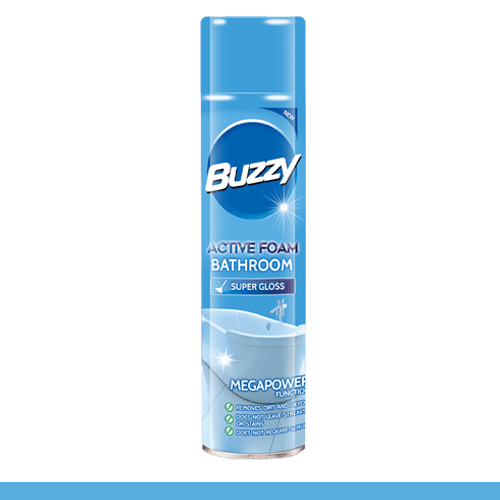 KITCHEN CLEANING FOAM
The product is perfect for removing greasy residue. Thanks to the content of surfactants, it degreases and cleans the surfaces. It creates a coat that protects from dirt. The product forms a foam that sticks to vertical surfaces. It leaves a pleasant, fresh, fruity scent.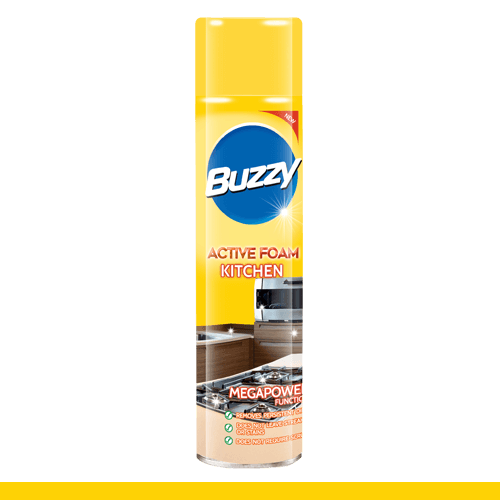 CARPET AND UPHOLSTERY CLEANING FOAM
The product, in addition to standard surfactants with cleaning effect, also contains polymers that effectively remove impurities and impregnate the fibres and protect them from dirt. The result is that the textile material remains clean for longer and they are more resistant to dirt. The product leaves a fresh, floral scent.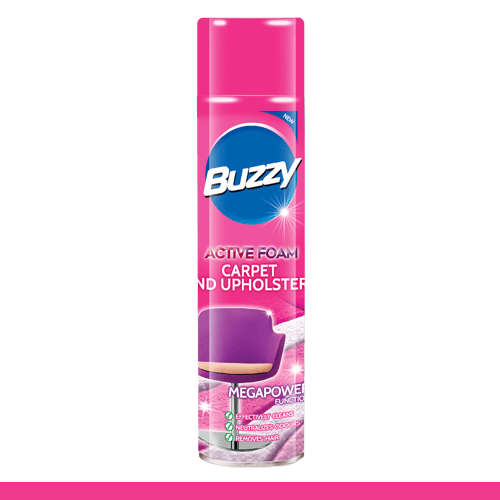 FRAGRANCE BOOSTERS FOR LAUNDRY
Exclusive, Floral, White Flower
A new, unique product for washing – Freeze Breeze scented pearls! It's perfect solution that gives your clothes a unique and pleasant fragrance that lasts for many weeks! Just put the pearls directly to the washing machine's drum just before washing. From the very beginning of the washing cycle they release their aromas that penetrate deep into the fabric fibers. They perfectly neutralize unpleasant odors and also help detergents in removing stains. Freeze Breeze White Flower, Floral and Exclusive pearls give the garment a pleasant, floral fragrance.
CLEANING PADS MADE OF STEEL WOOL AND SOAP
Pads are perfect for removing difficult dirt from different surfaces. Product is made of very thin steel fibres that thoroughly clean and polish dirty surfaces. In addition, they are soaked with detergent which makes cleaning even more effective. Pads are perfect for cleaning Perfect for washing gas stoves, pots, grill, oven or dishes.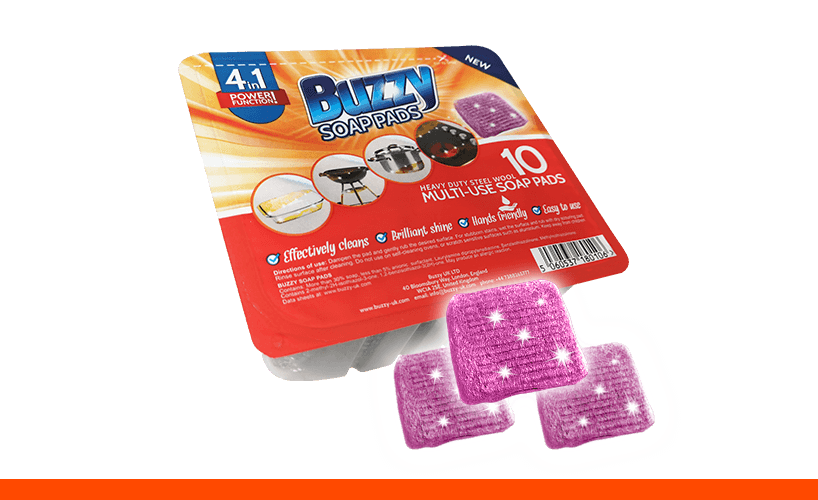 MAGIC SPONGE
Like an eraser, the sponge removes traces of crayons and markers from the walls. Used only with water, it helps to remove stubborn dirt from the surface of floors, doors, tiles, sinks, bath tubs, and oven glasses!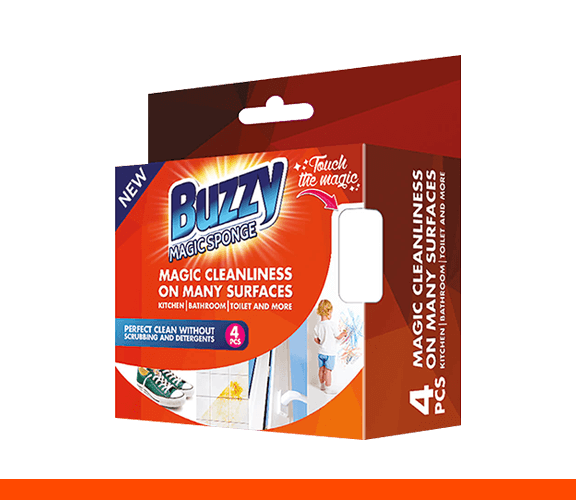 MICROFIBRE CLOTHS
Microfibre cloths clean and polish surfaces in your home without leaving streaks. They can be used with or without cleaning agents. They perfectly remove dust and all other dirt. Packaging contains 3 cloths – for cleaning kitchen, glass and mirrors and one for multi purpose.